Premium brand for your guests
With tea enjoyment to enthusiastic guests
Strong brand with the highest quality standards
Solutions for every area
Best taste
Top classics, innovative teas, exciting novelties
Creative products for bar, kitchen and café
B2B shop
All-round support
Why at your place?
Your customers want takeaway drinks
Your guests are looking for a time out
Your guests want to be pampered
You want to offer your guests exciting enjoyment and events
The best teas for dinner!
Hot or cold: exciting tea creations
Inspire with concept?
Of course: the best teas from all over the world are the basis for the enthusiasm of your customers. But this also includes the right accessories for the preparation and presentation of your tea line. Of course, we also offer concepts so that your staff can always provide high-level advice on tea as well.
Tea Time by experts!
What you search is what you get! Only one thing is important: please do not compromise on quality. Even a "tea bag" can offer the best quality. Even an iced tea can consist of tea and not just sugar and additives. Once you have "had the taste", you will only want to enjoy "your TeaGschwendner" tea from now on! Treat yourself and your guests to enjoyment, satisfaction and recommendation.
Loose teas with the seal of quality
HAND-PROCESSED. ENJOYMENT. DIVERSITY.
It is impossible to put into a few words a tea selection of over 350 premium varieties, quality-assured, creative, puristic, innovative, classic, delicious, soothing, refreshing, creamy, tangy, fruity, strong, highly aromatic, nutty, creamy and much more.
TeeGschwendner offers the best teas in the world, pure or blended, in all flavours under the highest quality standards and quality-assured in our own laboratory. Which varieties suit you best? We will be happy to advise you!
By the way, loose tea is very easy to prepare. With the right utensils, you can give your guests unique moments of tea bliss!
MasterBag Pyramid
LOOSE TEA. PRACTICAL. PRE-PORTIONED.
A selection of our best 24 loose teas from all ranges (green tea, black tea, herbal tea, fruit tea, rooibos tea) for unadulterated yet practical enjoyment!
Creating the optimal combination of quality and sustainability - true to this motto, our tea experts have developed the MasterBag Pyramid range - an innovative pyramid bag made of biodegradable material. This protects the environment and resources and ensures an even more intense taste experience!
Our premium tea bags for loose tea are time-saving, practical and still offer the full taste of freshly brewed tea leaves.
Ice Tea
REFRESHING. DELICIOUS. ORGANIC.
The favourite iced teas as tea blends completely in keeping with the times, fresh and fantastic, in the tried and tested half-litre format.
Our Ice Teas are naturally delicious: our creative minds have conjured up four delicious, ice-cold refreshing tea refreshments from freshly brewed, real tea and pure juices.
Natural ingredients produce refreshing iced teas with no added sugar or preservatives - just as you would expect from an iced tea today.
A perfect drink that customers in bakeries, kiosks, canteens, cafeterias or wherever "takeaway" is popular will be happy to take with them on their way ...
Tea accessories
We know, of course, that practicality, stackability and dishwasher resistance are the most important factors in the catering industry. And then, of course, aesthetics.
From tea glasses to practical tea mugs with storage trays to stylish tea services made of fine bone china, we will work with you to find the right accessories.
What is still missing? A display or stand to attractively present your tea selection? Special utensils for your Matcha ceremony? Or a tea menu? Let us talk ...
We look forward to presenting our tea to you.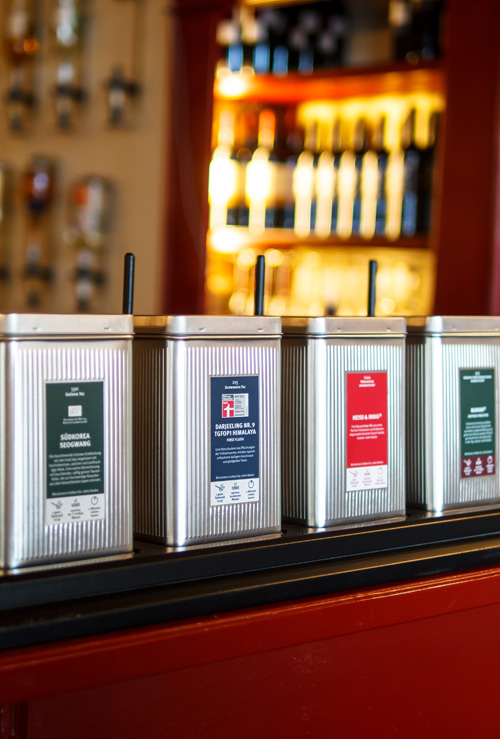 Advice
A drink for takeaway?
Our Ice Teas also match in price with other chilled drinks for bakeries, kiosks, canteens, cafeterias ...
Focus: tasty, practical, hot , for takeaway or a short stay?
Then definitely MasterBag Pyramid! Our specialities in bags have made a name for themselves, especially in bakeries, offices, canteens, cafés and bistros.
Would you like a little time out?
Your GASTRONOMY offers small oases of well-being and relaxation. Depending on the circumstances, a selection of loose teas is also suitable in addition to our MasterBags. But also in HOTELS at the breakfast buffet, in conference centres or at lunch and dinner your guests will thank you for the best selection.
Tea as an event / High Tea
Well, sometimes it has to be something special. A high tea offers the "very sophisticated" in your UPSCALE AMBIENCE, while cocktails in CLUBS or BARS offer a kick of a completely different kind.
And which tea goes with you? Which tea goes with which food? We will be happy to advise you!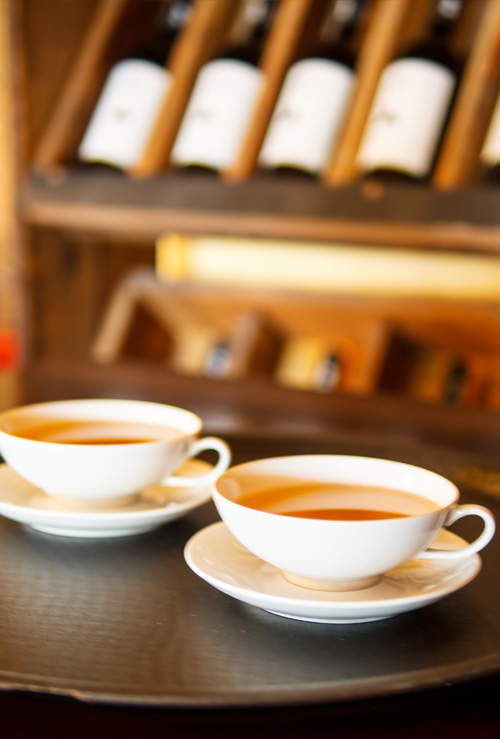 Training
We not only advise you, we also support you in advising your guests and answering their questions competently.
Please feel free to ask about the possibilities of our digital training courses, support from our local specialist shops, Tea Taster events at your premises or training by one of our many tea sommeliers.
In-drink, superfood, caffeine kick - - just 3 of the terms your guests love about Matcha. And variety: Matcha pure, latte, smoothie ....
Whether with or without alcohol: we have great cocktail recipes for all the variations your cocktail heart desires. Take it easy - make it easy!
Our friends at Siegfried Gin have developed great recipes for a TeaTime+. Hot tea with a kick. The 5 o'clock tea time rethought.
..
Are you interested in our gastronomy offer? Then we look forward to hearing from you!