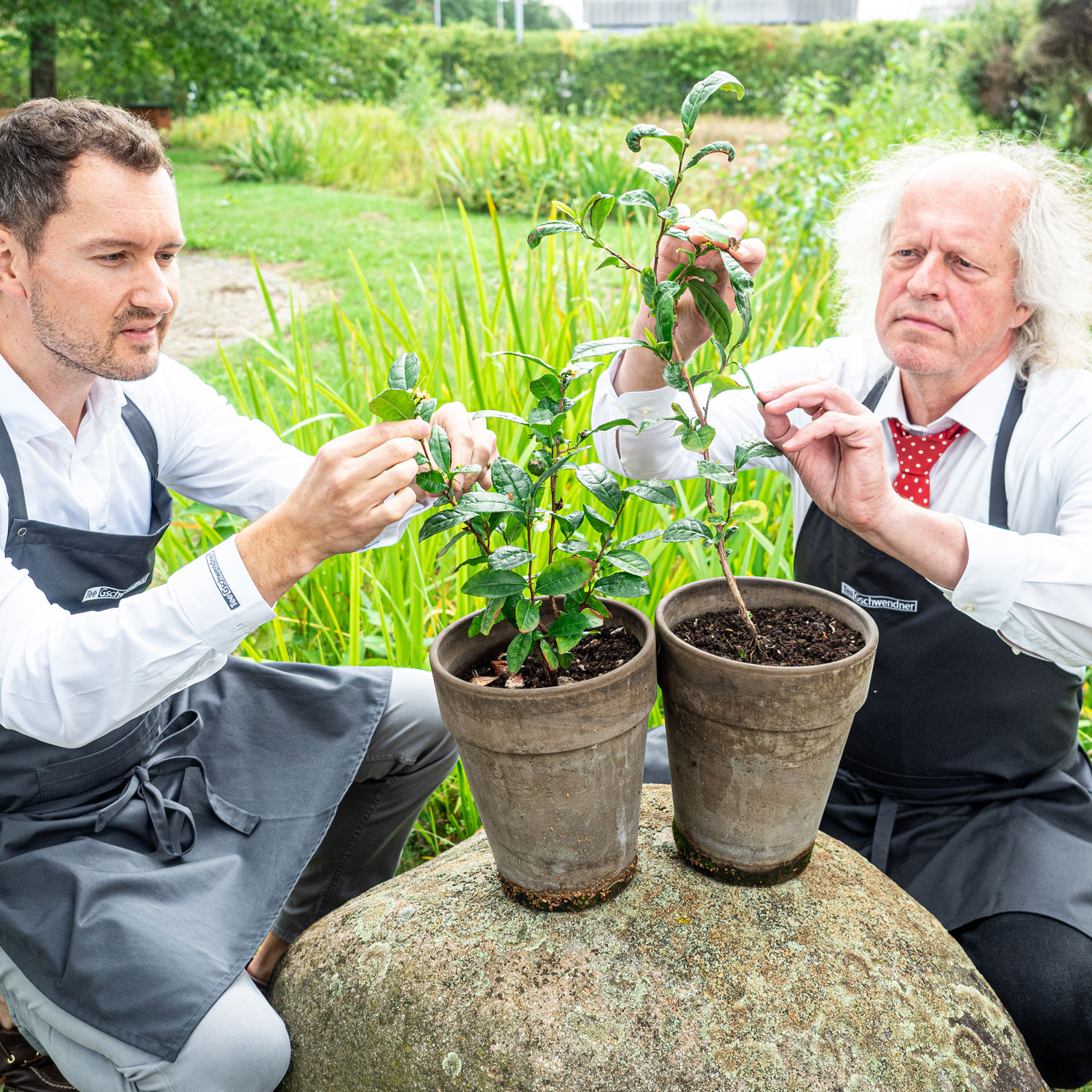 Interesting facts about TG
If TeeGschwendner didn't have so much to do with tea, it would have to be called "new ground". "Make and drink tea, off to new shores" - this motto is reflected throughout the company's history, which goes back to 1978. Whether Albert and his wife Gwendalina Gschwendner implemented the crazy idea of a tea shop at the time and earned all kinds of ridicule for it, whether the brothers Karl and Albert Gschwendner joined forces to enter franchising, which was still in its infancy at the time, and thus built up an independent community of close-knit tea friends and traders, whether it was conquering the internet with an online tea shop in the days of 2/86 computers in only a few private households or pooling tea knowledge for an IHK-certified further training course to become a tea sommelier - the pioneering spirit was always at work.
Off to new shores
Even though the name is admittedly a bit tricky to pronounce, each day more and more people around the world are becoming fans of TeaGschwendner. They are drawn by an appreciation for tea – a love for the product that finds its way into the heart of new and experienced tea drinkers alike. And here there can be no language barrier, no borders. The quality of our products and the quality of our people – the expertise of our buyers, the exacting standards of our laboratory team, and the inspired dedication and passion of our employees and franchise partners. Our qualified team is ready to embrace new challenges, never losing sight of the simple thing that makes our success possible – a passion for tea.
Family business
In the best classical sense, TeeGschwendner is a family business. Founder Albert Gschwendner and his brother Karl laid the foundation for this. Today, the children of the founders and Karl Gschwendner himself are firmly attached to the company as shareholders. While Jonathan Gschwendner is active as general manager of the head office, his sister Anna lovingly runs their mother Gwendalina's specialist shop in the centre of Bonn, while Karl's daughter Nicola runs the oldest TeeGschwendner location in Trier together with Miriam Kranz, young and modern.
The nieces Kathrin and Maike Gschwendner have also dedicated themselves to selling tea - they look after their customers in Mainz and Wiesbaden.


Founder portrait
The values anchored by Albert Gschwendner still shape the company today. With a lot of verve, courage, entrepreneurial spirit, creativity, expertise and a passion for tea, he paved the way for the future.
An exciting character to whom we were very happy to dedicate a portrait.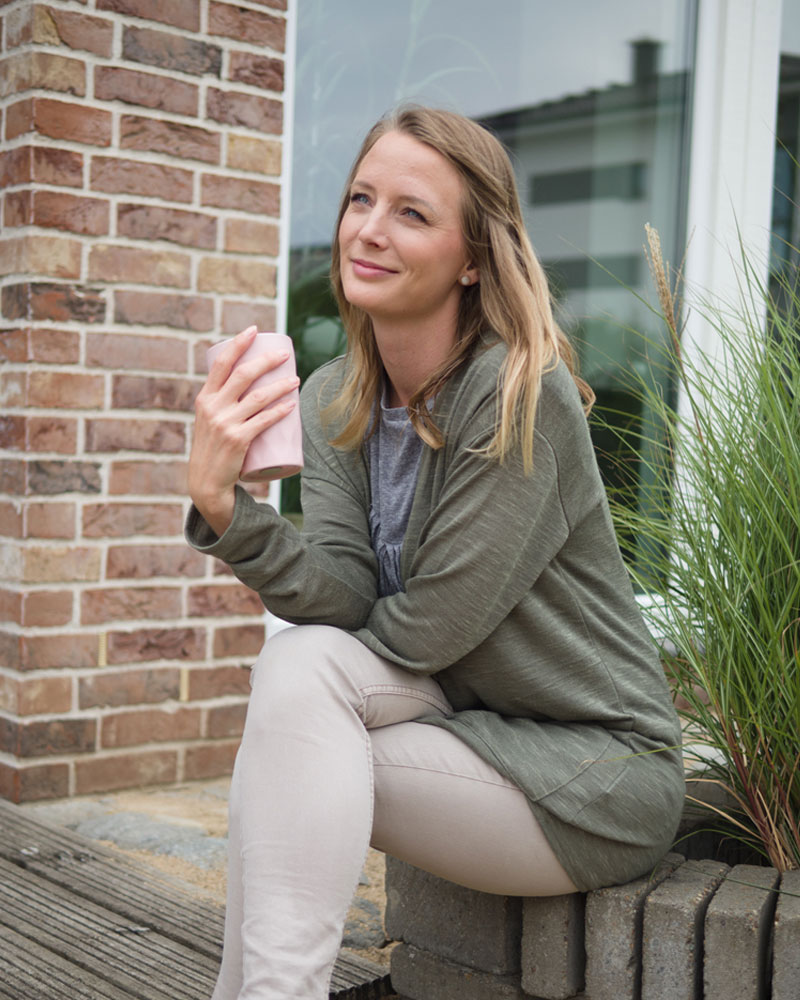 Guiding principles
The enduring success of TeaGschwendner is guaranteed by a companywide commitment to excellence. We demand that our tea products be of the highest quality and that, as our teas travel from the garden to the cup, this quality is assured by certified, transparent processes. TeaGschwendner stands for premium quality, safety, value, expertise and independence.
As we grow, we make certain that our suppliers have the opportunity to grow and succeed along with us. We cultivate relationships with producers and share with them their daily challenges, making mutual commitments to the environmentally sustainable cultivation of tea. We actively concern ourselves with the living and working conditions of the people who grow and produce the tea that we purchase. We demand that our suppliers share our vision of social responsibility.
And, naturally, it is just as important to us to create an equitable workplace at home. We invest heavily in the education and training of our teams, keeping them abreast of developments in our industry. Our franchise partners and store managers have an integral voice in shaping our policy, strategy and product offering. And you, as a customer, have a voice, too. Your ideas and suggestions are passed regularly from the store level up to the team at headquarters.
At TeaGschwendner, we encourage open dialogue. We would be delighted to exchange views on the principles which guide our enterprise. Our extensive knowledge covers the cultivation of the tea plants, the gentle processing and sensory testing of the teas, seamless quality assurance in our own laboratory and the precise blending and packaging in our factory, as well as all questions relating to the enjoyment of our teas.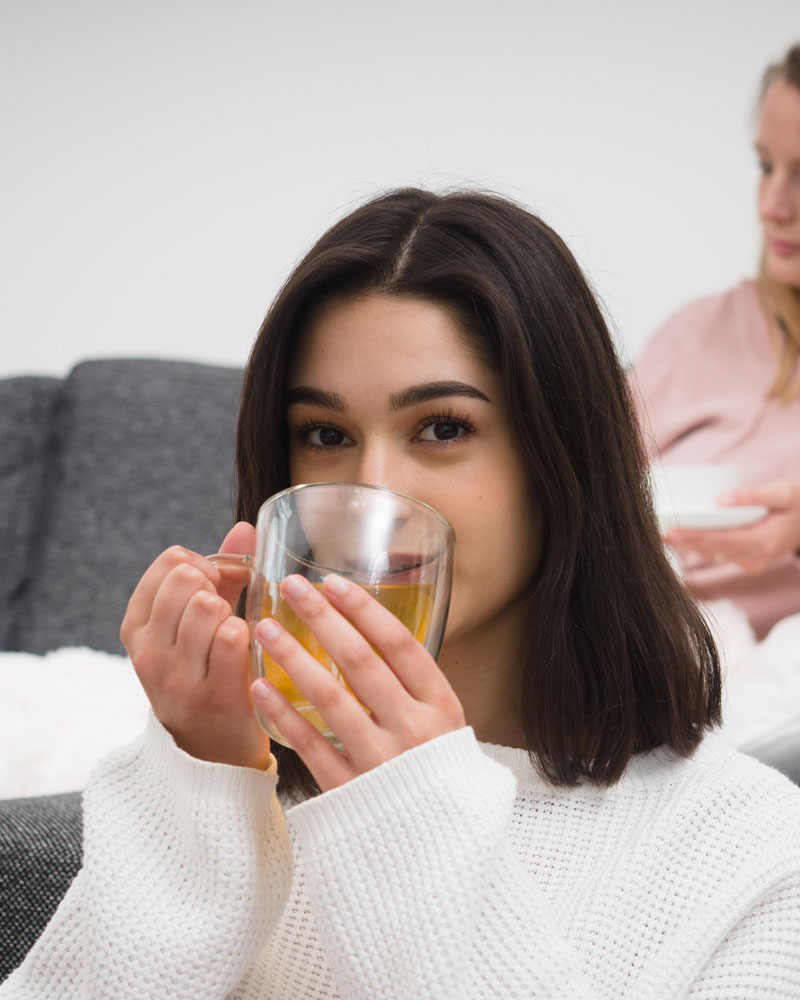 BETTER TeaGschwendner
1. Premium Quality
TeaGschwendner aspires to the highest standards of product quality and freshness. Only a tiny, elite fraction of the annual world tea harvest – a mere 0.5 % – is considered for purchase by our master tea tasters. Our close personal relationships with small, self-employed growers ensure a level of quality and rarity that cannot be found elsewhere in the market.
2. Safety
Buying tea is a matter of trust. We thoroughly test every tea – before and after purchase – for pesticide and heavy metal residues. Our scientists perform our tests at our own in-house laboratory according to reliable and verified methods, far stricter than the law requires.
3. Price and Value
From the very beginning, TeaGschwendner has been committed to the concepts governing environmentally sustainable tea cultivation. Fair trade and organically grown tea are of special importance to us. Teas of excellent quality and freshness have their price. We understand value and we pledge to our customers that, at TeaGschwendner, each gram of tea is worth its price!
4. Expertise
TeaGschwendner has outstanding expertise at every level of tea production. Our experts advise tea makers across the world on cultivation and processing techniques. Our tea tasters ensure that we select only the highest quality products, while our team of scientists and technicians guarantees their purity and consistency.
5. Resource conservation
Resource conservation is of trend-setting importance for our actions and the future of our company, our country, the earth and the entire population of the world. Together with our franchise partners and all people and companies involved in the value creation process, we have formulated the goal of permanently working on improving resource-saving production and environmental management, as well as using renewable, responsibly produced raw materials wherever possible.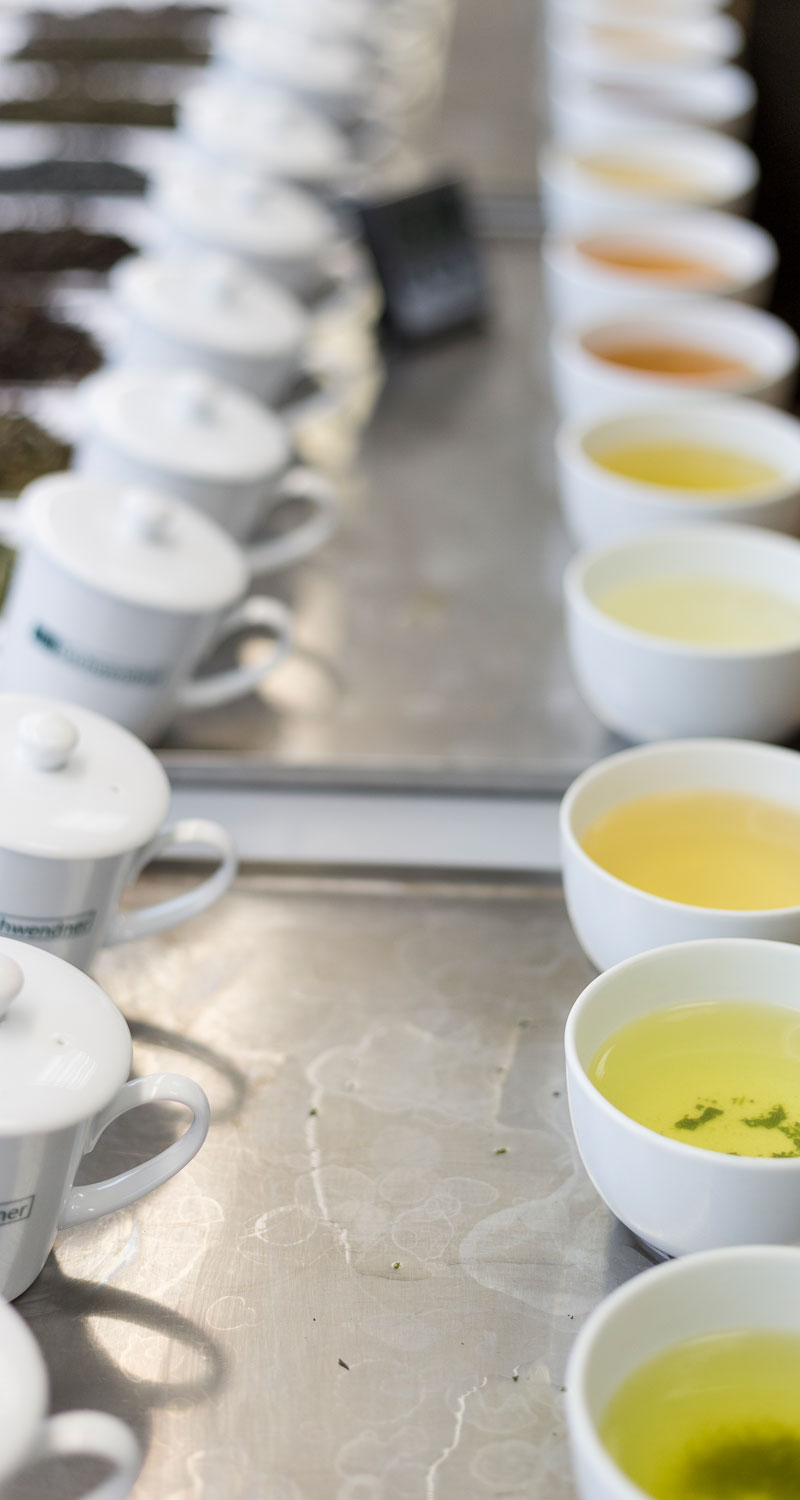 Historcal Milestones
TeaGschwendner in the change of time - we grow and prosper, we are always on the go and we love innovation!
| | |
| --- | --- |
| 1976 | Foundation of the company and opening of the 1st tea shop in Trier by 22-year-old Albert Gschwendner together with his wife Gwendalina and his brother Karl. The business idea arose from the lack of good shopping facilities for tea. |
| 1977 | Opening of the tea shop in Bonn under the new idea of "tea as an experience". The special features: A wide assortment, the highest product quality, the best location and comprehensive product advice with a wide range of services. |
| 1982 | Entry into franchising and nationwide expansion. All franchise partners are self-employed entrepreneurs and must have a love of tea as a prerequisite, as well as comprehensive specialist knowledge and advisory skills. |
| 1985 | Expansion of the industry leadership in tea retailing with 25 franchised specialist shops and three own-account shops. |
| 1989 | 51 specialist shops and founding of the advertising council to plan and coordinate all joint marketing measures. |
| 1992 | The range now includes more than 300 varieties of loose teas. Expansion to Luxembourg and Switzerland. The head office moves from Bornheim to the larger location in Meckenheim. |
| 1999 | Implementation of a new market presence under the motto "Trade and drink tea" and development of a trend-setting world of experience around tea. To avoid confusion, "Der Teeladen" (the tea shop) is renamed "TeeGschwendner". The first internet shop goes online. TeaGschwendner is now represented at 80 locations. |
| 2004 | The shopfitting concept is adapted to flexible "city concepts" in order to maintain a uniform brand image despite different conditions and sizes. In cooperation with the Bonn/Rhein-Sieg Chamber of Industry and Commerce, the further training programme "Retail Management Specialist" is developed. |
| 2005 | Awarded "Franchisor of the Year" by the business magazine Impulse and the German Franchise Association, as well as an award for the best franchise system in the F&C partner satisfaction survey. Multilingual redesign of the internet shop. |
| 2007 | In cooperation with the Bonn/Rhein-Sieg Chamber of Commerce and Industry, the TeeGschwendner Academy is offering the TeeSommelier® qualification for the first time. |
| 2009 | TeaGschwendner wins first place with two teas at the "World Tea Championship" in Las Vegas. Awarded the Golden Award by the Institute for Franchising and Cooperation as a particularly good business network. |
| 2010 | In July 2010, the company founder Albert Gschwendner passes away at the age of 56. |
| 2013 | 125 franchise shops are active in the German market, 144 worldwide. The online shop is relaunched. TeaGschwendner is repeatedly awarded the Golden Award as "Best System 2013" by the International Centre for Franchising and Cooperation. |
| 2014 | In the Futurestore concept, the new flagship opens in Hamburg on Bergstraße with a large tea lounge. |
| 2016 | The first TeaGschwendner sustainability report is presented. |
| 2017 | Awarded the "Green Franchise Award" as a company that acts sustainably. |
| 2019 | Jonathan Gschwendner becomes general manager |


Headquarters at Meckenheim
Located in the Rhineland,
the TeaGschwendner headquarters
have developed into a centre of
competence and service.
Visitors feel the special spirit
already upon entering!